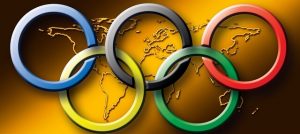 The 2016 Summer Olympic Games have been well underway in beautiful Rio de Janeiro, Brazil for almost a week and a half now and the competition is fierce! For 16 days, the games bring together the most talented athletes from around the world and attract millions of people to partake in watching the games from the comfort of their own homes. While many sports are included in the Olympic games, there are some fan favorites that are left out. Cycling is included as an Olympic sport, however, other roller sports have yet to make their appearance in the games. For many years, the roller skating community has fought for a chance to get their favorite sport onto an Olympic field, but to no avail. Although roller skating has not been featured as an event, yet, the possibility still exists! At Sparkles in Hiram, we are all about supporting our sport, so we did some research to find out what criteria needed to be met to consider skating an Olympic sport.
A candidate must apply anti-doping measures outside of competition to be eligible for consideration. They must follow established and recognized regulations set by the International Olympic Committee (IOC).

The sport must be organized into an international federation that can apply for contention on behalf of the sport.

If both of these things are met, the sport must have a certain number of participants in a variety of countries.

Ranked events must be observed.

The sport must hold championships on an international level outside of the Olympics.

The sport must involve a physical means of propulsion, not mechanical.
If and when all of these criteria are met, the IOC will then vote on whether or not to recognize the sport.
Since 2005, the IOC has recognized inline speed skating, however, it has never fully made it to the games. With persistent lobbying and with the passion of the athletes supporting the sport, hopefully we can see our favorite pastime make it to the Olympic games!
Who knows? Maybe one of our Sparkles skaters will win a gold for the USA in future Olympic games!