Happy November, Hiram! They say time flies by when you're having fun and that's certainly been the case at Sparkles in Hiram. We've had a year of wonderful events at our skating rink and we are excited to see what the new year holds. As the holidays approach, it's time to start thinking about holiday shopping and finding the perfect gift. If you're looking for a fun, unique gift for your friends or family, find some inspiration at Sparkles Pro Shop in Hiram, Georgia!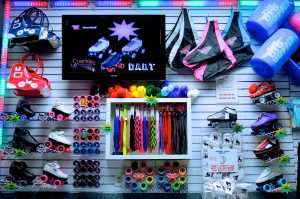 The Perfect Gift for the Roller Skate Lover
In addition to our spacious skating rink, 3D blacklight laser tag arena, arcade, and cafe, Sparkles in Hiram also has Pro Shop filled with anything and everything skate related. Purchase everything from roller skate laces to top stops to brand new skates in a variety of colors and styles. Whether you're a beginner or veteran skater, we've got something for you.
When you're thinking about your holiday shopping list, consider stopping by our store to pick up a brand new set of skates for your loved one, grab some laces or wheels for a stocking stuffer and get the tools to keep your skates in tip-top shape!
Gift Cards
Not sure what your loved one wants? Get them a gift card! Sparkles gladly provides gift cards for our guests to come back and pick out their dream skates!
Sparkles is Hiram's Family Fun Center of choice! We're located at 4054 Jimmy Lee Smith Parkway, Hiram, Georgia 30141 and welcome walk ins, birthday parties, corporate and private events. Call us at (770) 943-4446 to book your event today!