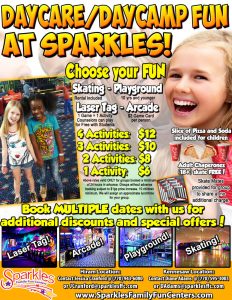 Summer is vastly approaching and that means it's time for day camps and day cares to begin planning fun field trips for the campers. Sparkles Hiram is the only summer field-trip destination that's sure to be tons of fun for the kids, but also a guaranteed opportunity for the children to have fun, rain or shine.
Booking your day camp or day care field trip to Sparkles Hiram is easy. Simply select your activity, either roller skating, our Sparkles Hiram indoor playground, laser tag or the arcade. Prices vary based on how many activities you select.
What's the cost?
4 activities are $12, 3 activities are $10, 2 activities are $8 and 1 activity is $6. Please note that these prices are valid only for groups booking a minimum of 24 hours in advance with a 10 kid minimum.
Is lunch provided?
A slice of pizza and soda will be provided to each child and skate mates will be available for the group to share at no extra charge.
What is the cost for adults?
Adult chaperones (18+) skate free!
Want more special offers?
Book multiple dates with us for additional discounts and special offers.
For more information about admission and party bookings at Sparkles Hiram, visit our website or give us a call at (770) 943-4446. Do you enjoy bringing your kids to Sparkles Hiram for some safe fun? Rate and share your experience at our facility with us in the review section of our Facebook page today. We always enjoy hearing from you!