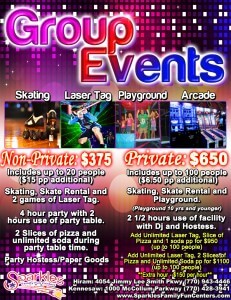 If you're planning a group event in the Dallas-Hiram area, you've come to the right place! Here at Sparkles Hiram, we offer both public and private events to please any group and fit an occasion. (Click image to enlarge.)
Affordable private events
For an unforgettable experience, rent out our entire facility! You can't beat our prices for private events, starting at just $650 for up to 100 people. For the cost of your private event rental, you will get to use our expansive facility for 2.5 hours, and we will supply you with a DJ and a party host to help run your party.
Our Hiram event venue has something for everyone, including:
Roller skating on our spacious wooden skate floor to great music, from the latest pop hits to old school favorites
Laser tag in our sprawling 2-story, 3-D blacklight laser tag arena
Arcade games of all types, from classics like skee ball to fun new challenges like Angry Birds
An indoor playground for kids ages 1-10 years old, including a special toddler area for kids 2 and younger!
Couey Cafe, serving up delicious hot food and sweet treats
Unique event venue for all occasions
Our private events are the perfect solution for celebrations of all kinds:
Sweet 16 parties
Bat and Bar Mitzvahs
School field trips
School, church, or charity fundraisers
Surprise parties
Religious/youth group events
Meetings
And much more!
With a variety of activities to choose from and flexible upgrade options, we can tailor your private party to perfectly fit your needs, giving you and your guests a day or night of fun like no other! Ready to make a reservation?
Got questions? We're more than happy to assist you. For more information or to book via phone, please contact Jessica Cranford at (770) 943-6080 … OR … Jcranford@sparklesffc.com