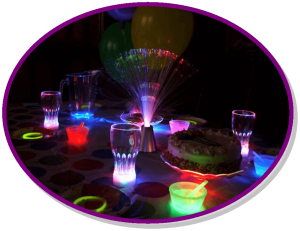 Sparkles Kennesaw in Kennesaw, GA has long been known for our unforgettable birthday party experiences that we provide for kids of all ages. Our wide range of party packages allows you to customize the perfect party for your birthday boy or girl. When you're looking for something truly amazing, our cosmic birthday parties are the glowing option.
These parties are limited to Friday or Saturday nights because that's when the lights go down, and the fun cranks up. What's great about these parties, is that your guests can even dress up to make the experience more fun! Everything white or light colored glows under the black lights! The basic version of this package includes admission for up to 10 children, two activities, two slices of pizza each, unlimited soda at the table, a 45 minute reservation at your very own party table, a party hostess to guide your guests through the night including eating, opening gifts, and handing out their tokens and favors, flashing glow pieces, game tokens, and paper goods.
When the black lights turn on in the skating rink, it gives the whole place a glow that takes the fun level up a notch. To make this experience unique just for your child's birthday, have all of the guests wear white shirts and bring highlighters, turn your child's party into a highlighter party! The kids can write notes on each others shirts with the highlighters, and they will glow under the black lights. If your child has skates with light up wheels, here is the place that they can show them off.
Call us now or go online to book your party reservation! Check out all of the options that we have and create the party of your child's dreams!