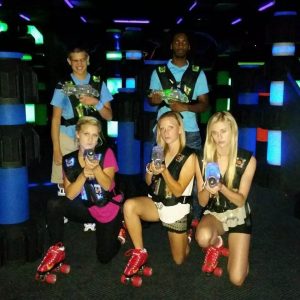 Laser tag is fun for all ages, especially at our incredible multi-story 3D blacklight laser tag arena in Kennesaw! If you love laser tag and want to up your game and score more points, these laser tag tips can help you on your way to victory. Come on by to play a game any time, or schedule a laser tag party for you and your friends!
Know the rules- Make sure you know the rules for playing, the rules for scoring, and the terminology. The basics are the same at most laser tag places, but pay attention to the rules of where you're playing just in case.
Know the arena- Getting to know the layout of the arena will help you improve your game. If you learn the layout of the arena, you can plan strategies and find hiding places that allow you to defend your teammates as you move around the course.
Dress appropriately- Indoor arenas are often low-light environments. Wear dark clothing with no logos or bright colors. Whites and lighter colors will stand out in the black-light. The key is to see without being seen.
Don't run- Move slowly and in a crouched position so that you don't draw attention to yourself. The key is to stay hidden until the enemy is your sights. Have teammates watch your back and fire at an approaching enemy if necessary.
Communicate- Teamwork requires communication. Talk (quietly) to teammates or use hand signals to show which way you're going.
At Sparkles Kennesaw, we make laser tag extra fun with black lights, strobes, barriers, police beacons, and other fun features, not to mention our 2-story arena for even more action-packed fun. Snipe at the opposing team from above or below, catching them off guard!
Book a laser tag birthday party now to celebrate your special day or plan an awesome corporate outing at Sparkles. No matter the occasion, everyone is sure to have a blast!