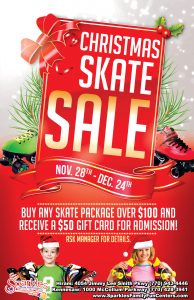 Here at Sparkles Kennesaw, we're not only the place for awesome family fun and group events in Kennesaw; did you know that we also have a pro shop where you can buy roller skates, wheels, bearings, and other skating accessories?
This holiday season, give the best gift ever to your kids, your spouse, your best friend, or yourself- give the gift of roller skates!
For a limited time only, buy any pair of roller skates from our pro shop priced over $100, get $50 back in FREE skating admission on a Sparkles gift card! The gift card is good for one year from the purchase date. See manager for details or call 770-428-3941 for more information. This sale extends from now through Thursday, December 24th 2015 at 3 pm.
Why gift skates?
There are so many reasons why roller skates make an awesome gift for anyone on your list this year! Here are 3 of them.
Roller skating is a healthy activity! Roller skating is great exercise, toning the legs, glutes, and core muscles while also building stamina, improving balance, and burning calories. You can feel good that your gift is helping the recipient be active.
It's the perfect way to spend some quality time together. While you're at it, why not buy yourself a pair of skates, too? You'll have so much fun skating together, whether it's a regular family outing with the kids, a weekly date night with your boo, or a way to stay close with your bestie.
Save money and have fun! The best thing about gifting skates is that it will save money on skate rental fees, so your special skater can enjoy roller skating more often! There's nothing like the fun of gliding around the skating rink to your favorite songs. Plus, when you take advantage of our amazing Christmas Skate Sale, your recipient will get to enjoy $50 in FREE skating admission at Sparkles!
Don't miss out on this deal, and be sure to follow us on Facebook to stay up to date with our latest events and announcements!