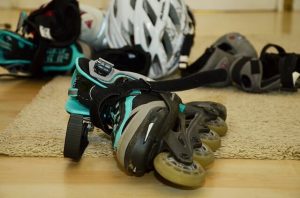 Roller skating is a sport that can be shared with people of all ages. From toddlers to senior citizens, roller skating is a social activity that provides a great source of physical activity and brings happiness to everyone that partakes.
Once you catch the skating bug, there is just no shaking it off. Like any other sport, the more you play, or in this case, skate, the more likely you are to purchase your own equipment. Like any other valuable, you want to make sure they your gear lasts as long as possible. Read on for some helpful maintenance tips to ensure your skates are always ready for the rink!
Safety First, Skating Second
Check your skates over when you first receive them. Whether you purchase them online or buy them in-store, be sure to perform a quick maintenance check before taking your skates to the rink.
Make sure the wheels are properly attached and all the nuts are firmly screwed into the proper places. Like a car, the last thing you want to do is lose a wheel when you are in motion on the skating rink!

If you are using quad skates, make sure the toe stop on the front of the skate is adjusted to your perfect height.
After each skate session, go through and check your equipment for any loose screws and cracks. Doing tricks, accidental falls or putting extra stress on the skate can sometimes cause a crack or a nut to move causing the wheels to loosen up.
Keep your wheels tightened and clean

Do not let your bearings get wet or stay in wet conditions. You want to prevent any rust or corrosion from forming.

If your wheels are not spinning well, try lubricating them.
A few minutes of a little TLC goes a long way in keeping your skates cared for and functioning correctly. Have more questions about your skates? Swing by and see us, we are happy to help!