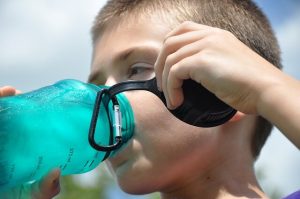 At Sparkles in Kennesaw, we love summer and all the fun activities that come with it! Pool time, backyard barbecues, and family vacations are just a few reasons why we get excited when the weather gets hot! Although the warm weather provides opportunities for people to enjoy the beautiful outdoors, it can also cause issues and potentially dangerous situations if you do not take the right precautions. Make sure your family has a fun and safe summer by following these summer safety tips!
Hydrate, Apply Sunscreen, Skate, Repeat
Apply sunscreen- Protect your family from ultraviolet (UV) rays by applying sunscreen before going outside. Doctors recommend using sunscreen with at least SPF (sun protection factor) 15, preferably higher, at least 30 minutes before heading outside.
Keep covered- If your family will be outside for longer periods make sure to protect their face, scalp, ears, and neck by wearing a hat. Not only does a hat provide shade, but it can also prevent sunburns on forgotten areas of the face like the tops of the ears, nose, and top of the head.
Stay hydrated- Make sure to drink plenty of water before going out to play and take frequent breaks to re-hydrate while you are out. If you or your child is not a fan of plain water, try putting some fresh fruit slices in your water bottle for a little flavor infusion!
Head inside for the afternoon- The hottest time of day is in the afternoon, usually between 12pm and 3pm. To avoid heat stroke or dehydration, take your playtime inside where you can hide away from the Georgia heat. Playtime doesn't have to stop when you come inside. Head over to Sparkles in Kennesaw where we have a variety of fun activities for you and your family to enjoy in a cool, air-conditioned environment.
Start your visit off in our 3D laser tag arena, then head over to our roller skating rink where you can skate the afternoon away to some of your favorite songs. Take a rest in our arcade zone or refuel at our Couey Cafe and you've got the perfect visit to Sparkles.
Remember to stay up-to-date with all the fun happening at our Kennesaw location by following us on social media!