Everyone's favorite yellow minions are back and they are ready to play at Sparkles in Kennesaw! Join us for a day of skating, games, prizes and more at our Minions Skate event.
It's Time to Get Silly
From being mischievous with their supervillian turned sweetheart boss, Gru, to playing with their best friends Agnes, Edith and Margo, it's no secret that the Minions are all about having fun! Join us for Minion Skate and receive discounts on admission and actives, games, prizes and more!
Mark Your Calendars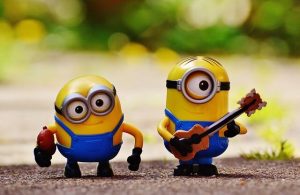 Who: Our local Cobb County families and friends!
What: Minions Skate Day
When: Saturday, August 27th from 11:00am to 2:00pm
Where: 1000 McCollum Parkway NW, Kennesaw, Georgia 30144
Why: Visit with the Minions as you skate, play, and run around our kid-friendly venue. From toddlers to grandparents, there is something fun for the whole family at our awesome venue!
Save While You Play
Come visit with the Minions and enjoy awesome discounts on a variety of our activities including $9 admission, $4 skate rentals and $19 for UNLIMITED fun admission which includes skating, skate rentals, playground access (for children under 10 years old), and unlimited laser tag games. Our multi-level, indoor playground is a favorite among our elementary school guests and our skate floor is the perfect place for parents and kids to enjoy some healthy exercise together. Playtime at Sparkles is a win-win for the whole family!
Don't forget the camera so you can snag a photo with the Minions and share your memories with us on Facebook! We love to see those smiling faces! Remember to "Like" our page to stay up-to-date with Sparkles news and stay updated on local events.