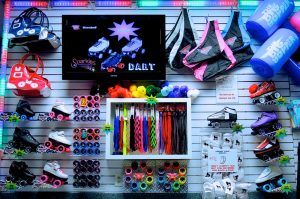 The leaves have fallen off of the trees, our bellies are still full from Thanksgiving, and that means that Christmas is just around the corner. Are you in a bind trying to decide what to get your loved one for Christmas? Or are you just tired of buying gifts that will only be used on Christmas day and then put to the side? Well, make Christmas extra special this year for the skate lover in your life with a gift they can use all year – roller skates! Roller skates are the perfect holiday gift for anyone and we welcome skaters of all ages to enjoy the holidays and bring in their new skates with us at Sparkles Kennesaw.
Ask our managers about our Christmas Skate Sale! Going on now through Christmas Eve! Buy ANY skate package over $100 and receive a $50 gift card for admission! That's right, buy your skates with us and we'll give you money to come skate! You can't beat that deal. So, if you thinking to yourself, "why are skates the perfect holiday gift?" Well, let us tell you!
Did you know that roller skating is recognized by the American Heart Association as a top aerobic exercise and even at a moderate rate, roller skating can greatly impact your cardiovascular health? It is true!
For more information about our skate sessions, birthday parties, skate sales, private parties and special events at Sparkles Kennesaw, visit our website or give us a call at (770) 428-3941. Do you enjoy rollin' with us at Sparkles Kennesaw? Rate and share your experience with our staff in the review section of our Facebook page today. We always enjoy hearing from you!