Staying fit and active is extremely important for people of all ages. While all people need to have a point of fitness, it can be a little difficult to be involved with fitness when you are trying to do it all on your own. While it is possible, you'll find it to be easier to go through if you're able to do so with family. There are a lot of great activities that you'll find you can enjoy with your family members in order to stay fit and active. One great activity of fitness for the family that you can have a great time with is skating. For those that are in Kennesaw, Georgia, Sparkles Family Fun Center is an incredibly great place to go to have fun while being fit and active at the same time!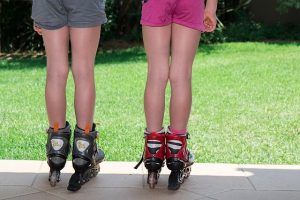 Skating is one activity that gives you an amazing workout… you're getting your heart rate up, you're experiencing intense movement and you're using a lot of your muscles. While you're skating and exercising an act of fitness, you're also having a great time. It's even more fun when you can experience it with your family members.
If you're looking for things for your family to do together in order to stay fit, skating is the perfect activity. You'll find that it's a great benefit for you to exercise as a family. When you do fitness activities as a family you're able to establish habits that can last a lifetime, you're able to encourage and motivate each other to keep going and you're also bonding with each other as well as making memories. It's great to have the opportunity to do fitness activities with your family. When you skate at Sparkles Family Fun Centers you will have a great time with your family!