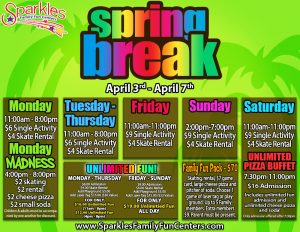 Spring break is fastly approaching and that means it's time to lace up your skates for some roller skating fun at Sparkles Kennesaw! You don't want to let spring break past without getting some roller skating time in. Even if it's just for a session (or two, or three, or all of them!), roller skating can have great health benefits for children and adults. Check out three (or four…) reasons to make spring break plans at Sparkles Kennesaw.
Roller skating is good for your heart!

Roller skating is recognized as a top aerobic exercise by the

American Heart Association

. It's a fun way to get your heart rate up without even thinking about it!

Roller skating time IS family time.

For years, roller skating has been known to bring family and friends together for fun and fellowship.

Roller skating relieves stress.

Have you ever seen anyone frowning while on roller skates? We haven't either. Roller skating is a great way to relieve stress and body tension.
Ok, so we've given you three reasons already, but just in case that wasn't enough, we'll give you one more reason. According to Health Fitness Resolution, "roller skating helps improve balance with the strength of abdominal and lower-back muscles, since you must maintain a steady core to stay upright. Coordinating balance and leg movement improves coordination." All more reason to spend your spring break at Sparkles Kennesaw!
For more information about our skate sessions at Sparkles Kennesaw, visit our website or give us a call at (770) 428-3941.