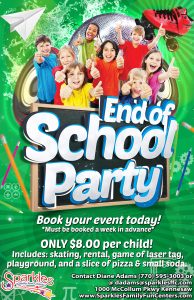 Celebrate a successful school year here at Sparkles!
Our facility is the perfect place to hold your next school party.
We offer events for K-4th Grade and a special "Graduation End of the Year Party" for 5th Grade classes!
In Addition to Roller Skating, we offer:
Multi-Story Black Light Laser Tag
Multi-level, Soft and Bouncy Playground
Arcade Room with Video and Redemption Games
Full-Service Cafe
Free Wifi
We can include a food package for your students or have our Café open for purchases. Whatever your budget is, we have a package that is just right for you.
Our facility is fully air conditioned and you won't have to worry about getting rained out of an outdoor event!
For more information or to book your group contact Diane Adams at (770) 595-3003 or email her at [email protected].