Contact Jessica Cranford at 770-943-6080 or email [email protected] to reserve your dates.
Helping your child's school raise money has never been more fun! Sparkles Kennesaw is proud to provide local schools with great options for fundraiser parties for all ages. There's something for everyone at our fundraiser parties, from kids to parents to teachers to older and younger siblings.
Read on to learn why Sparkles is the go-to place for group events in Kennesaw, Marietta, Acworth, Woodstock, and throughout Cobb and Cherokee County!
Something for everyone– You may know Sparkles as a skating rink, but we're so much more! Our recently renovated family entertainment complex is home to not only skating, but also 3-D laser tag in our two-story arena, an indoor playground for kids 10 and under, and an arcade full of awesome games, from old classics to exciting new options. Take your winnings to our Fun Shop to buy a cool prize, and don't forget to head over to Couey Cafe (our concessions area) for a tasty snack or cold drink.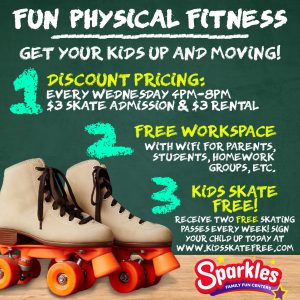 Active fun– Thanks to sedentary jobs and the lure of technology (Hello, Netflix binge!), families today are finding it harder than ever to get enough exercise in their routines. A fundraiser at Sparkles is a great option because it will get everyone off the couch and onto the skating rink! Roller skating is a fun and easy way to burn calories, improve endurance, and tone muscle. Running around our laser tag arena can also work up a sweat, and kids will have so much fun climbing, sliding, swinging, and exploring our indoor playground that they won't even realize they're burning calories.
Easy and effective– At Sparkles, we are experienced in hosting all kinds of group events, and we know how to make it easy. Check out our fundraiser packages above, or give us a call to discuss your event in more detail.
Another benefit of our fundraisers is that they appeal to everyone! For your fundraiser to be a success, you need as many people to show up as possible. At Sparkles, you can throw an elementary school fundraiser that older siblings will actually want to attend, and vice versa. It all adds up to more money for your cause!
If you're interested in booking a school fundraiser at Sparkles, don't wait! Book your event now.